Less Than Full Time Training
Many West Midlands Paediatric trainees will, at some point, decide to become Less Than Full Time; the reasons for training LTFT are varied and specific to the individual (see information about eligibility criteria below).
We hope you find the following information about LTFT training useful; if you have any further questions then please do not hesitate to contact the LTFT Trainee Representatives via the website or through westmidlandspaediatrics@gmail.com, and they will endeavour to help you.
​
​
Less Than Full Time (LTFT) Frequently Asked Questions
How do you apply to Less Than Full Time (LTFT) training?
---
1. Complete a 'Less Than Full Time Application Form' – link here
2. The LTFT team prefer to be contacted as soon as possible – if you know your TPD then ideal to discuss your intention to apply to LTFT with them, but this is not mandatory.
3. Send completed application form with digital signatures to email: Programmes.wm@hee.nhs.uk
4. If approved you will receive a LTFT Eligibility Letter
5. You will then need to liaise with the department in which you are placed to arrange working hours, and find out if you will be placed in a slot share.
Please note that there are no longer Stage 1 and 2 forms, only a single form.
Please also remember that if you are returning to work (LTFT or fulltime) following a period of leave, there is the return to work (RTW) programme and forms to be completed. See the return to work page on the website.
---
What eligibility criteria are needed for LTFT Paediatric Training?
---
1. Category One: Responsibility for caring for children
2. Category One: Health related reasons
3. Category One: Responsibility for caring for ill/disabled partner, relative or other dependent
4. Category Two: Unique opportunities for personal/professional development
5. Category Two: Service to the wider NHS
6. Category Two: Other reasons
There has recently been a pilot where these criteria were not needed and anyone could apply for LTFT training without an eligibility assessment. This is now closed but we will update the website if this changes.
---
What are some of the advantages of working LTFT? (Based on feedback from trainees)
---
Lifestyle - better lifestyle balance, more time with family, time for life admin

Flexibility – to help with caring responsibilities

Less intensity/pressure to get through exams

More time for e-portfolio
---
What are some of the disadvantages of working LTFT? (Based on feedback from trainees)
---
Financial – you work less you earn less! More time but less money. There is usually opportunity for locums if you can fit them in if this does not impact on your training or wellbeing (1-2 per month allowed maximum, in your department)

Settling in can take longer, it can take longer to feel part of the team

Lack of understanding from full time colleagues/supervisors can occur – although this is improving

It can be complicated to sort out the rota

Can be challenging to sort getting time off in lieu/correct zero days/study and admin time

Potential to end up doing work on your 'off days'
---
What types of LTFT working are there?
---
There are two types: Part time in full time slot vs slot share.
If you are LTFT for the first time and in a slot share, it may be worth reading the part time in a full time slot section below as many of the principles will still apply.
Ultimately whatever you negotiate for hours with either way of working, you still need to make sure you are doing the % of full time hours for that rota slot. You should end up with a set of calculations which look something like the following:-
In the example above you would be working the exact percentage overall, although not per shift type. This is generally accepted. In some rotas you may be under by one long day for example, based on how your fixed days fall – the action then is to highlight it to the person managing the rota and then negotiate to make up those hours elsewhere at a time which suits you both. Most departments are good with this.
---
What does part time in full time slot mean?
---
In this type of working you will be working your % hours during a full time slot. You will need to negotiate with your department about how this works. For example, if you are LTFT because you care for a child you may have your child in nursery or with another carer for set days. The most common arrangement is to work fixed days. If you work 60% you will do three normal working days per week plus 60% on calls. For 80% it is four days per week. These can be negotiated in your department but must include your regional teaching day (Wednesday for paediatrics). Ideally they will include local departmental teaching sessions too but this is not always possible – you will need to contact your department to find this out. Most departments are accommodating so you don't have to work three days in a row if you don't want to; some prefer you to for continuity of care but there is no rule on this.
Departments will usually find locum cover to cover the days you are not in – they will have to find someone to cover the on calls you don't do and they are often flexible.
On calls
Again, you are usually expected to cover your on call % of shifts. The best way to do this is to add up all the types of on call on your rota and then calculate your percentage. If you work 60% you will usually work 2 out of 4 long days in the week or 2 out of 4 weekday nights and then 2 out of 3 weekend long days and 2 out of 3 week day nights. As long as the total % of full time slot adds up this can be negotiated. Some departments prefer you to do all your nights in one go for example (so do four week day nights in first set and do none of the second set).
Example (working patterns are not limited to this but this is the most common pattern followed):
The 2/4 weekday on calls and 2/3 weekend works well for most trainees but doesn't always add up to exactly 60%. This is why calculating the total is so important as you may then need to negotiate adding in or taking back the extra hours. Again, the above is the most common format for rotas but does not work for every department.
---
What does a slot share mean?
---
This is where two trainees, usually both 60%, share a full time slot. The following example assumes that teaching is on a Wednesday and so that is the overlap day where both trainees will be working. The difference here is that instead of negotiating the working pattern with your department (as in the case of the LTFT trainee in a full time slot) you are negotiating with your slot share person and then putting your suggested timetable forward to the department for approval. This often works very well but can also be tricky – for example if you both want the same days off.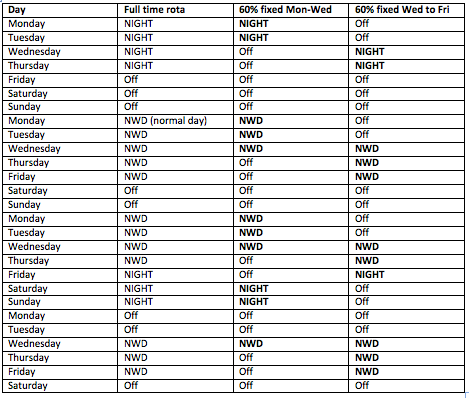 In the example above you can see how the full time slot shifts are covered by both trainees. Some trainees prefer to not work just one weekend night – so in that case one trainee may do a set of all three weekend nights in one month, and then the other trainee do the same for the next run of weekend nights. This can help with sleeping pattern disruption – but if the Weds to Fri working person has Monday and Tuesday off for childcare for example, then they would have the added challenge of making a different arrangement for that set (or be very tired on Monday!).
Again, you need to add up the total of each type of shift and then do your percentage. If the slot is split equally, then you will need to pick an extra 10% of on call shifts elsewhere on the rota to make up your 60% percentage. This is often where there may be gaps elsewhere in the departmental rota.
---
What annual leave allowance is available for trainees working LTFT?
---
The number of weeks of annual leave is the same for full-time and LTFT trainees, remembering that the latter's working week is shorter than full-timers. For example, the total year's entitlement for a LTFT trainee working 60% (24 standard hours) is 16 full days per year (if you have been working 5 years and less in the NHS).
Note that after five years of working in NHS, annual leave increases from 28 days to 32 days per year and therefore annual leave should be adjusted accordingly. Further advice can be sought from the employing organisation, usually Medical Staffing.
Bank holidays:
There are 8 Bank Holidays per year. The LTFT trainee is entitled to these with pro rata. Occasionally a full-timer can be rostered for a full week's work without any of these hours falling on the Bank Holiday. In these circumstances the full-timer can claim a day's holiday in lieu of the Bank Holiday. The LTFT trainee may be in a similar situation and should be able to claim Bank Holidays in proportion to their hours of work per week compared to full-time. As LTFT trainees can claim a proportion of Bank Holidays, in return, the LTFT trainee must be available to work some of these Bank Holidays.
---
What study leave am I entitled to when working LTFT?
---
LTFT trainees usually have study leave pro rata, i.e. a trainee working 60% of full-time will have approximately 60% of the study leave entitlement of the full-timer. Thus the LTFT trainee will take less study leave per year, but for more years and so the total study leave taken over an equivalent part of training will be the same. The study leave may fluctuate from year to year according to need. As an example, attending half a course is of no benefit. If the total study leave required to attend a course exceeds the year's entitlement, this can be decreased in other years as compensation.
Occasionally it may be possible to devote all the working time to clinical work. This may occur when it is considered important that the trainee takes advantage of all the clinical training opportunities. The study leave can be increased, or taken as a block at later placements.
All LTFT trainees are recommended to discuss their educational objectives with their trainers, and have appropriate courses agreed in advance. This will help trainees obtain the appropriate funding, as an application for this can be submitted early via your trust.
---
Can I do locum work when working LTFT?
---
Health Education England's Statement for LTFT Trainees undertaking locum work:
LTFT trainees can do locum shifts but it is expected that this will be in the department where they are working and have educational supervision to ensure safe working, support and protection for the trainee. This standard also applies to full time trainees undertaking locum work.
Trainees must follow the Good Medical Practice standards and additional locum work should not negatively impact training. A LTFT trainee should not be doing locum shifts for slots left empty by them working LTFT. The expectation is that 1-2 locum shifts per month in the department in which you are currently working may be undertaken. If it is more than this then this needs discussion with Dr Helen Goodyear, Associate Dean for LTFT training to discuss options including working at a higher percentage of fulltime. Trainees are encouraged to discuss any issues regarding locum work that they are uncertain about with Dr Goodyear.
All locum work needs to be declared each year on Form R so the Postgraduate Dean is aware of all additional work undertaken within a trainee's remit of holding a licence to practise.
---
Where can I find out about pay when working LTFT?
---
You are paid by the Trust in which you work as they are your employer and so queries must be directed to the Trust, usually medical staffing.
Information regarding pay can be found on the NHS employers website here
The BMA also have a lot of information about LTFT pay which can be found here
Dr Bridget Wilson, the LTFT advisor for paediatrics is also happy to help with pay queries. Please copy the LTFT reps into email correspondence in case we can help.
---
How do I fill in the LTFT application form?
---
1. Download and 'save as' the application form to your computer (Mac users please follow the instruction sheet downloadable from here, or use Windows PC at work). This is an essential step. It will NOT work if you try to fill it in on the internet. 2. You will also need a relatively recent version of Adobe Acrobat, which can be downloaded for free. 3. If this is the first time you are applying for LTFT working, select 'new LTFT claim' at the top of the form. 4. Then fill the form in as much as you can by typing in the boxes. Do NOT use the 'fill and sign' function. 5. Then click in the signature box and create a 'digital signature' (follow the instructions) which is a combination of your typed name with a time and date stamp on it. 6. Send the document to: - Educational Supervisor (ES) - TPD (Dr Clare Onyon ST1-3, clareonyon@nhs.net or Dr Matt Cawsey ST4-8 matt.cawsey@nhs.net) - LTFT Postgraduate Dean (Dr Helen Goodyear helen.goodyear@hee.nhs.uk) - Then when completed to programmes.wm@hee.nhs.net Each person needs to digitally sign it and send it back to you, before you send it onto the next person so you should end up with one single form with all signatures on it. If you are on leave when you apply and do not know some of the above details, use your previous ES.
---
How do I change percentage (or go back to full time)?
---
- Download and 'save as' a LTFT application form from here but click 'change to current plan' instead of 'new LTFT claim' at the top of the form. - Then fill it in and digitally sign it - Send it via email to your Educational Supervisor, TPD, medical staffing (where you will be working when the change occurs) and then to Dr Goodyear. - Then send to the programmes.wm@hee.nhs.uk email address - If you have issues with the medical staffing part please copy in the above email address at the deanery or contact Nicola Watts
---
Where can I find information about the LTFT training pilot programme?
---
Please read the project guidance in regards to LTFT trainining pilot programme here. For aditional inforrmation and guidance please click here.
---
What is Category 3?
---
Health Education England (HEE) is developing innovative new approaches to postgraduate medical training to improve morale and provide greater flexibility for junior doctors, based on commitments in the NHS Long Term Plan and Interim People Plan to increase the flexibility of postgraduate medical training. This is where category 3 for LTFTT has come in to use. As part of the HEE flexibility agenda applications for LTFT Category 3 training are now available to all trainees on the Paediatrics training programme and there is no longer a specific window for application and trainees can apply at any time during the year. Further details of Category 3 training can be found on the deanery website here When applying for LTFT you must submit a LTFT training application and select Category 3. The process will be the same as for all other categories: the form will be received and sent for Associate Postgraduate Dean's approval and an eligibility letter submitted to trainees which must be kept and used as evidence of LTFT training for each rotation. To access and download the form please follow this link here
---
What is an LTFT Champion and who is the LTFT Champion in my Trust?
---
Each trust should have a LTFT Champion - they are a Consultant who acts as a point of contact for issues regarding LTFT pay and rotas within your specific Trust. You can find an updated list of LTFT Champions within the West Midlands on the HEE website here.
---
---